Information for Prospective Students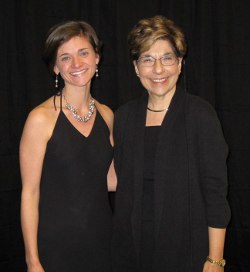 Reunion with former student, Fernanda Nieto while in Denver, CO.
Ohio University is a school of approximately 20,000 students and a music school of approximately 250 majors. OU is small enough to provide students individual attention within a nurturing environment that is large enough to offer many opportunities to grow. Each exciting year offers a wide range of world class visiting artists on campus providing master classes and outstanding performances for our students. The School of Music holds an annual concerto competition, giving students the chance to perform with our symphony orchestra. In addition to their weekly lessons, students also meet for weekly studio classes and/or Piano Labs, enabling students to perform for their peers and receive constructive feedback.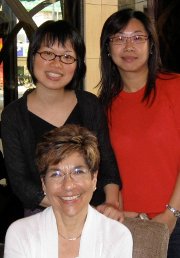 Gail Berenson visiting former graduate students, Ya-Hui Tsao (left) and Yi-Wen Pan (right) in Taiwan.
Ohio University holds the distinction of having two students awarded the National Federation of Music Club's Lynn Freeman Olson Piano Pedagogy Award. OU graduate students, Katie Goins (2003) and Fernanda Nieto (2005) were recipients of the $5,000 award, which went toward their doctoral studies.
Students at Ohio University have access to unique educational opportunities in Music Wellness directed by Gail Berenson. She pioneered a wellness class in 1981, Performance Preparation, which explores strategies for preparing students physically and psychologically to achieve their maximal performance potential.
An entrance audition is required of all students wishing to enter the School of Music at Ohio University, regardless of major. An in-person audition is always preferable, providing each student the opportunity to visit Athens, meet the faculty and students and to see the Music Building. While here, be sure to schedule walk around the beautiful campus.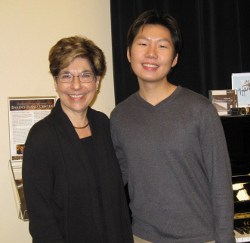 Reunion with former student, Kwok Lui while in Denver, CO.
Click here for more information.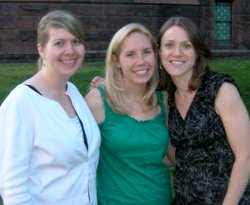 Former graduate students who joined the faculty of the New School for Music Performance in Princeton, NJ. (L to R: Angela Leising, Natalie Gibson, Katie Goins)